Ramadan Iftar Recipes | Tasty Food from Morocco
Today we feature some tasty dishes from Morocco that are often served for iftar (breaking of the Muslim fast). One staple food item that almost every Moroccan family has for break fast, is the hearty meat and lentil soup called the Harira.
Cooking this dish is not an easy task because the cooking time is long - at least between 2 andn 2.5 hours. So attempt this dish only when you have the time to do so. Otherwise, it'll be an effort wasted!
Moroccan cuisine is rich in spices. Spices in Moroccan cuisine are used to enhance, not mask, the flavor of food; if you attempt the following recipe, you will see what I mean.
The Harira Recipe
A Moroccan Soup Served at Sundown to Break the Ramadan Fast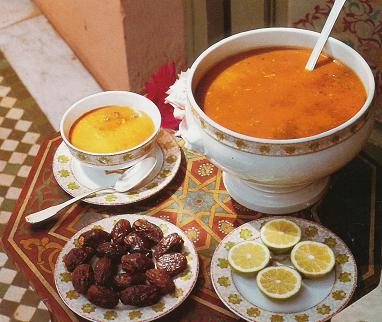 Ingredients:
1/3 cup Flour
1/2 cup Chick peas
1/2 lb Lean lamb or beef diced
2 Large onions, chopped
1/4 ts Saffron
2 tb Paprika
1 Soup bones
1 tb Butter
2 tb Salt
1/2 ts Pepper
1/2 cup Dried broad beans
1 1/2 lb Tomatoes
1 Bunch parsley
1 Bunch fresh coriander
1 tb Butter
1/3 cup Rice
1 Lemon
1/2 cup Lentils
Method:
1) Soak overnight 1/3 cup flour in 1 cup water; 1/2 c lentils in water to cover. Brown in lightly oil deep pan lamb, onions, saffron and paprika (increase or decrease according to taste).
2) Add 6 cups of water, soup bones, butter, salt, pepper, chick peas with skins popped off and discarded, and the dried broad beans which have been washed and cleaned. Simmer, covered, for 2 hours or more.
3) 20 mins before serving, pour through a food blender into the soup pan (or blend with one cup of water) the tomatoes, parsley, coriander & the flour and water paste. Add 3 cups of water, and when it returns to boil, add the vermicelli.
4) When the vermicelli is cooked, add 1 Tb butter and lemon juice (or serve a wedge of lemon with each bowl to be squeezed on the soup). The soup should be smooth and slightly thick in consistency; add water or flour to thicken and adjust, if needed.
*Note: Chick peas may be substituted for lentils; the meat used can be chicken, if preferred.
And to sweeten your taste buds, after the hearty soup, you have the....
Famous Moroccan Dessert, Chabakia


Enjoy Ramadan Tastes from Morocco!
Labels: Ramadan Iftar, Ramadan Recipes
Share