Ramadan Iftar Recipe from Morocco | Milkshakes
Milkshakes are a good way to introduce healthy drinks into the Ramadan iftar menu. Milkshakes are easy to prepare, nutritious (especially for children who have been fasting) and tasty.
The following two recipes for milkshakes are from Morocco. They are popular drinks served during iftar in Morocco.
Moroccan Almond Milkshake
Ingredients
* 1/2 cup almonds, blanched and peeled
* 1 1/2 cups cold milk
* 3 to 4 tablespoons sugar
* splash of orange flower water
* 4 or 5 ice cubes, optional
Method
Place the blanched almonds in a blender, and process until the almonds are a fine powder. Add the milk, sugar and orange flower water, and blend on high speed to mix well. If desired, add ice cubes while the blender is running to chill the drink even more. Pour into glasses, and serve immediately.
Moroccan Avocado Milkshake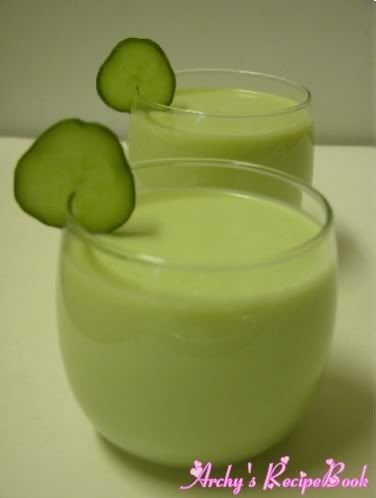 Ingredients
* 2 to 3 cups cold milk
* 1 ripe avocado
* 3 tablespoons sugar
* handful of ice (optional)
Method
Peel the avocado and cut in half. Discard the pit. Put the avocado and sugar in a blender with 1 cup of milk. Blend until very creamy and smooth.
Gradually add another cup or two of milk to make the shake as thin or as thick as you like. How much milk you need will depend on the size of the avocado.
Add a handful of ice to the blender if you like your shake well-chilled, and blend for another minute. Pour into glasses, and serve.
Enjoy Ramadan Tastes from Around the World
Here on the Ramadan Blog!
Healthy Eating Habits Tips During Ramadan
Here on the Ramadan Blog!
Healthy Eating During Ramadan
How to Fast Healthily During Ramadan
What to Avoid During Ramadan
Honey | Beneficial Things to Eat During Ramadan
Labels: Ramadan Food, Ramadan Iftar, Ramadan Iftar Recipes, Ramadan Recipes
Share