Ramadan Iftar Recipes | Tasty Food From Saudi Arabia
Saudia Arabia is the birthplace of Prophet Muhammad. The King of Saudi Arabia acts as the Custodian of the Two Holy Mosques. As such, Saudi Arabia tries to fulfill its responsibility of defending Islam and striving to serve Muslim interests. It also has been conducting dialogues with other cultures and religions with the aim of driving deep the principles of peace, justice and universal human welfare.
In Ramadan, adult Muslims, except the sick and those traveling, abstain from food, drink, smoking and sex between dawn and sunset. After breaking their fast, Muslims attend Tarawih, a special nightly prayers. Muslims are also encouraged to read the Quran and engage in spiritual remembrances.
Today, we feature a Ramadan iftar dessert recipe from Saudi Arabia called Sambosa Helwa (Mini Sweet Sambosa). It is somewhat similar to the savoury Indian samosas that is filled with meat or vegetables, but in the Saudi Arabian version it is sweet. There is also a Saudi Arabian savoury version that is deep-fried.
Sambosa Helwa (Mini Sweet Sambosa) Recipe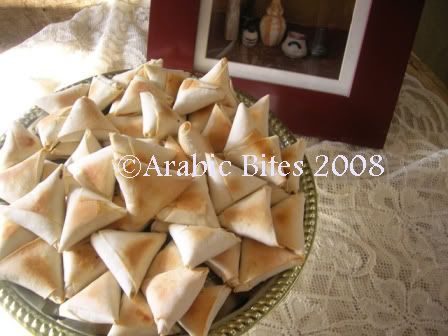 Recipe By Arabic Bites.
Ingredients:
1 package mini sambosa pastry leaves.
For the filling:
1 cup of finely chopped pistachios.
1/2 cup sugar.
1/2 teaspoon ground cardamom.
2 to 4 tablespoons rose water.
1/8 teaspoon blossom water.
Pinch of saffron threads (crushed).
Method:
1) To seal the dough, mix 2 tablespoon of flour with water to make a sticky paste.
2) Mix all of the filling ingredients.
3) Place the pastry in your hand, take the left edge and fold it to the right side, next fold it to the left side to get a cone shape.
4) Fill cone with half a teaspoon of filling, seal the cone by repeating the same moves (left and right) close the edge with the sealing dough.
5) Bake at 350 F until golden brown.
Labels: Ramadan Food, Ramadan Iftar, Ramadan Recipes
Share