Ramadan Iftar Time Calendar Toronto Canada
The following is the Ramadan 2009 Calendar for Toronto, Canada.
Note
: Fajr means both Fajr Athan (Azan) and Imsak (starting fast) and Maghrib means both Maghrib Athan (Azan) and Iftar (breaking fast).
RAMADAN 1430 HIJRAH (2009 C.E.)
Toronto Schedule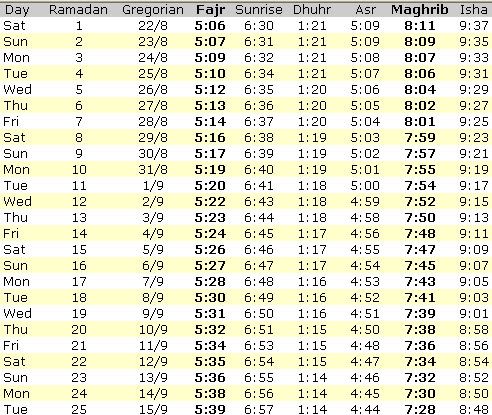 Enjoy Ramadan Tastes from Around the World
Here on the Ramadan Blog!
Ramadan Iftar Recipe from India
Ramadan Iftar Recipe from Singapore
Ramadan Iftar Recipes | Middle East Soups
Ramadan Iftar Recipe from Morocco
Ramadan Iftar Recipe from Saudi Arabia
Ramadan Iftar Dish from Saudi Arabia - Al Kabsa
Ramadan Iftar Dish from Syria - Chicken Fatteh
Ramadan Iftar Recipe from Kuwait
More on Ramadan Iftar Recipes
Labels: Ramadan Calendar
Share